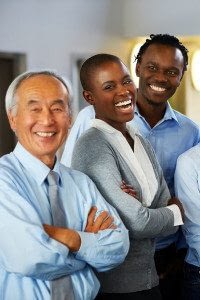 How can Princeton work for me (or my organization)?
Ask yourself: Who is telling the decision-maker (who can send you business) about my services and experience? If your answer to that question is vague, you should consider using our company. Princeton will present your services to the proper person(s) at companies that can refer business to you. 
How much does this service cost?
Using the principle of "economies of scale," representative marketing can be done for your practice for a very reasonable fee.
Generally speaking, the costs are less than the cost of hiring a full-time professional staff person. Exact costs are determined by the service, specialty, and market size. Additionally, we would expect your organization to be responsible for postage and for printed material that we deem appropriate for the marketing effort. We would, of course, review these costs with you before investing in such materials. We believe that you will find such an investment reasonable and necessary.
Is the service cost-effective?
One good, full-time, experienced marketing person can cost more than $60,000 a year. Of course, some may propose to do it for less, but one generally gets what one pays for. When you consider the costs of hiring experienced marketing representatives of the caliber that Princeton has in its association – and paying the benefits for an internal rep – using us instead is extremely cost-effective.
We already have a marketing department. How does Princeton work with them?
Princeton will supplement your existing marketing efforts to produce even better results than you may be currently achieving. Our company will work with your people toward common goals and objectives. We firmly believe that our service is unique and should be an addition to your current marketing efforts, not a replacement for them.
Whom do you choose to represent?
Princeton chooses professionals and organizations that have a proven record of accomplishment in a particular field. We present their credentials and experience to the various decision-makers so that they can, in turn, choose the proper professional for their needs.
Whom do you call on?
Princeton calls on your behalf to the business community, large self-insured employers, insurance companies, third-party administrators (TPAs), and managed care companies. Marketing professionals carry your credentials and summaries of your experience to these people in an effort to secure their business for you. In our experience, decision-makers often lack direct knowledge of a particular professional's credentials or areas of expertise and are therefore uninformed about the right professional to choose in a given situation.
These decision-makers are frequently the risk managers of large corporations, human resources managers, claims supervisors, and vice presidents in charge of claims. Our 25 years of experience in the insurance business have helped establish relationships with many key individuals in insurance and other industries and in governmental agencies. Such relationships, developed over the years, put us in a unique position to recommend professionals' credentials with positive results.
How are decision-makers identified?
Princeton has categorized and identified decision-makers within various insurance companies and corporations in a database that is updated regularly. Executives and other personnel are monitored to make sure that we are dealing with the correct people. These individuals are also tracked as they move from company to company, partly because we recognize that such transitions often involve a promotion of the individual to a position with decision-making responsibility.
What message is taken to the decision-maker?
In every instance, the representative from Princeton will meet with you or your designated staff person to ascertain the precise language to be used in the presentation. We will communicate exactly the message you want to give the decision-makers. We will not present anything that your organization does not authorize. Only authorized, printed material is distributed to the decision-makers.
Decision-makers are reminded to use your services through personal follow-up calls, electronic mail, high-speed fax transmissions, and Internet interfaces.
How long will it take before I see results?
Generally speaking, you should start seeing results from the marketing effort in about 90 days. Once referral sources are secured, the marketing results usually follow a positive upward trend well into the future.
How can I measure the results?
We report to you on a regular basis, outlining contacts made on your behalf. By monitoring your office billings, you will see which contacts are productive.
Intangibles and results such as name recognition and referrals from existing clients or acquaintances are extremely difficult to measure but are an additional benefit of any marketing program.
What about territory exclusivity?
Princeton will choose professionals who are proficient in their specialty in particular geographic regions. You will know what area of expertise will be marketed and exactly what your geographic territory is. These exclusive territories vary by service and specialty.
Do I ever have to make personal calls?
From time to time, when an opportunity is particularly attractive, Princeton will ask you (because you are often the best representative of your profession) to accompany our representative on a call. We are sure that, considering the caliber of the people we are calling on, you will be eager to accompany our representative at that time.
How long will I need the service?
Assuming our system works for you, you will probably want to continue our service for a long time to come. Because of the extremely competitive business climate, we believe that you should always market your services. Please look at our service as you would any other tool that you use in your daily practice. If it is producing revenue for you, why would you want to discontinue it? However, keep in mind that you may cancel the service with thirty days notice. We reserve the right to do the same. 
What other services are offered by Princeton?
Princeton has a broad range of practice management techniques and tools that you may want to use. Among these are:

Contract Review & Negotiation
Billing Systems
Personnel Management
Recruiting
Hiring
Advertising
Public Relations
Introduction to Qualified Professionals for:

Legal
Accounting
Insurance
Investment
Real Estate Services

Interior Design
Office Layout
Kffice Supplies
Computer & Phone Systems
We are also researching and developing other services.
Why can't I simply do this myself?
The answer is: Of course, you can. The problem for most professionals is where to find the time. We are all capable of cleaning our own offices, preparing our own papers (we did that in college and graduate school), and answering our own phones, but most of us do not have the time. Our system allows the professional to concentrate on what he or she does best.
How do we get started?
A representative from Princeton will meet with you or your designated representative to identify those areas that you want to present. When these are identified and chosen, your staff prepares printed material for distribution by our company.
Can you give me ten good reasons to use Princeton?
We present your services directly to the decision-maker.
Our service is reasonably priced – it's affordable.
You are given an exclusive territory.
Presentations are made in a professional manner.
We know who the proper contacts are – the decision-makers.
The use of experienced marketing personnel saves you from paying for the learning curve.
If you don't present your services, your competitors may present theirs.
The economy is more competitive than ever. More services are chasing fewer dollars.
Decision-makers are reminded on a regular basis to use your services.
State-of-the-art information technology presents your assets to decision-makers.
If our service does not work, you can discontinue it without further obligation. This is generally not true with in-house personnel whose costs include training, payroll taxes, health insurance, fringe benefits, sick pay, vacation pay, family leave, ADA compliance, and the very costly learning curve.
Please Remember – Offense is Real Simple:
If You're Not Moving the Ball – They Are!